Grace Theisen Band- Thirsty Third Thursdays
February 16, 7:00 pm
$20
North Grove Brewers & The Playhouse Present
Grace Theisen Band
Sponsored by White Lake Family Dentistry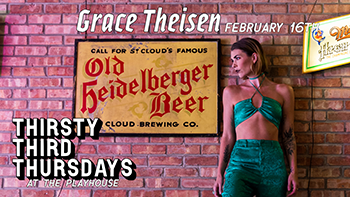 Grace Theisen is an Americana/Blues artist originally from Kalamazoo, Michigan. Her love for music started in her childhood living room, harmonizing to folk and blues songs with her family. Inspired by a variety of artists from bluegrass/folk singers like Patty Griffin and Alison Krauss, to pop artists like Billy Joel and The Beatles, to blues artists ranging from B.B. King to Bonnie Raitt.
After graduating from Hope College in 2014 with a double major in Gender Studies and Psychology, Grace moved to Nashville, TN, from 2015-2018 to run her nonprofit, Songs Against Slavery, full-time. Their mission was to raise awareness and fight sex trafficking in the U.S. through benefit concerts. They ended up raising over $375,000 to aid in the fight. In that time, she opened for Emmylou Harris, played the infamous Bluebird Cafe, participated in songwriter rounds at The Listening Room and opened for Matthew Perryman Jones at The Nashville City Winery. She recently moved back to Kalamazoo to pursue music full-time.
Fairly new to the Michigan Music Scene, she has created quite the buzz since moving back. Grace won Cari Cole's Best New Artist of 2021 and was named "Artist To Watch" by Michigan's Local Spins media outlet in January of 2022. In March, she released her 3rd EP, Dance With The Shadows. This record was produced by Jake Rye of the Social Recording Company and is a mix of Americana, Blues and Pop. From that EP, the Down To The River Official Music Video won Best Americana Video & The Audience Choice Award at the 2022 Michigan Music Video Awards. Behind the Rain was picked up by one of Spotify's official playlists, Home At Last.
This past July, She was just named by Revue as one of the "Top 10 Bands Heating Up The Summer." Just this past year alone, she and her band have already played some of Michigan's hottest venues including Bell's Eccentric Café, The Crofoot, The Ark, Grand Rapids Listening Room, The Livery, and 20 Front Street.
This summer they played in multiple Michigan festivals, and made their debut on the mainstage at the inaugural Sounds of the Zoo Festival this past October. She is currently on tour around Michigan promoting her new single, Master of Fire, and is partnering with Michigan Reproductive Freedom for All to raise awareness about reproductive rights.